In order to be effective in real estate, it's important to present your listings in an attractive way – both in writing and photographs – while ensuring the description is factual and meets the advertising guidelines outlined by the Fair Housing Act. By accurately (and eloquently!) describing the property, you will make the process easier for home buyers starting their home search online.
Below are the two key components of creating listing descriptions that sell:
The Copy
Every great listing begins with great copy. When writing your listing you must consider the "who" and the "do." Who are you trying to reach and what is it that the property will do for them? If you can establish key benefactors of the property, properly convey the benefits of the property, and prove exactly what they'll be able to do as a result of the purchase, your listings will be more effective.
From start to finish, you want to portray quality with your choice of words. Start with the headline. According to Seth Williams, Founder of REtipster.com:
Your headline is an extremely important part of your listing because in most cases, this is literally your only shot at getting a buyer to notice you.
The next important piece of copy is the property description. One of the biggest mistakes is using this valuable space just to repeat the information that's already included in the details section of the listing including number of bedrooms, bathrooms, square footage, lot size, and more basic facts about the property. Instead, you want to use this section to convey a meaningful story to your "who." It's best to highlight unique features of the property, while using descriptive words. The infographic below shows you a few descriptive words that can help you take a single family home to a "Beautifully landscaped home, secure and private for you and your growing family."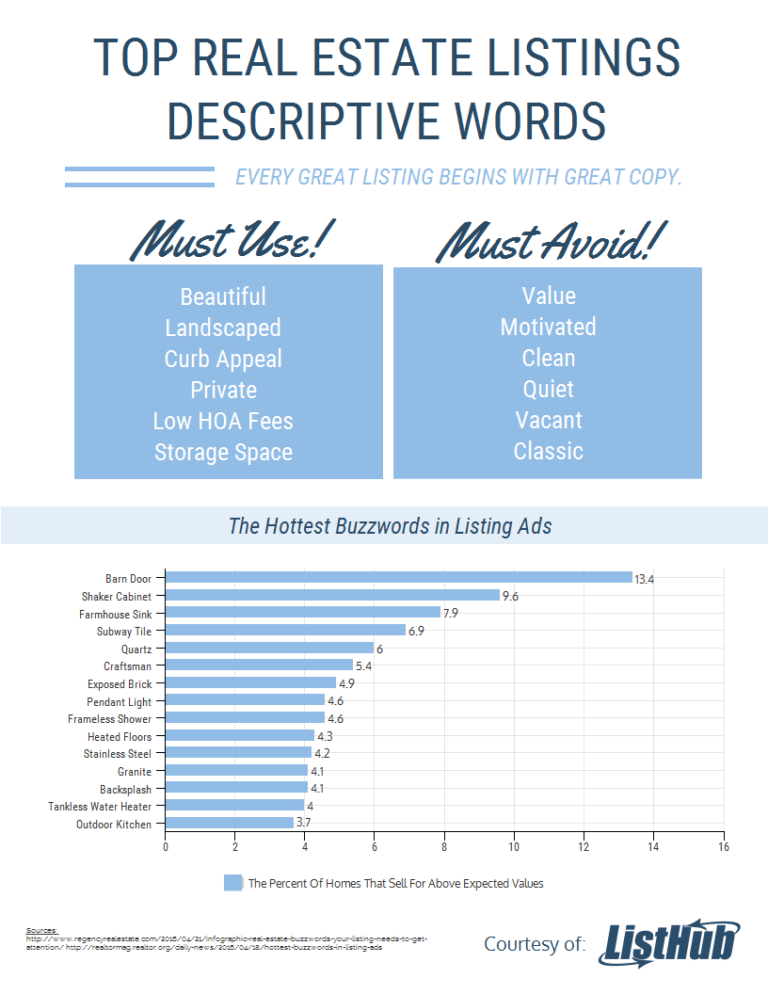 The Visual
Now more than ever, consumers enjoy previewing as much of a home as possible before they get in their car to view it in person. "A picture is worth 1,000 words" has been extended to live video tours that walk you through each square foot of the home, video highlights, and even 3D virtual tours. Offering visual content in your listings will improve engagement and overall interest in a property. In fact, HubSpot reports, "the brain processes visual information 60,000 times faster than text." It's not enough to simply upload a few shots from your smartphone. The key driver in visual processing is quality, and Inman has the following suggestions to achieve stunning imagery:
Invest in decent equipment
Include what really counts
Edit images, if needed
Your visuals should match the quality of your copy. Don't miss out on the opportunity to improve your reach, convert more leads, or drum up new business by not including effective visuals.
In creating your listing, keep the end-viewer in mind. Make every word, visual, and closing aspect of your listing count! Be sure to add components of interest and steer clear of superlatives and euphemisms that a buyer may misconstrue:
Up-and-Coming neighborhood (Not safe, yet!)
Hurry! Act Fast! Won't Last Long! (But it's been on the market over 6 months)
Full of character (Haphazard finishings and layout?)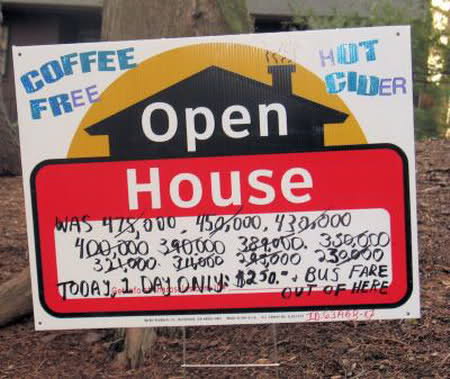 Photo credit: House Crazy